About the commercial...
We will now interrupt the regularly scheduled BFN bullshit to tell you a bit about the commercial...
First you have to know that it is Mr. D's biggest fear that it will not air... That he will end up on a cutting room floor somewhere and people will call us after the Super Bowl saying "Hey.. I watched for you but..." In fact I wanted to have a big Super Bowl "Commercial" Watching Party, but was quickly told "no way" that he did not want a bunch of our wierd friends over here staring at him and waiting for this commercial to air. So... no party. It is always possible that it won't air... but pretty unlikely considering the amount of $$$ it must've cost to shoot the thing!Last week he did some looping for his two lines and subsequently got to see a rough cut of the commercial... He says it is really funny and he has seemed much more excited and positive about it actually airing... But we will be watching to see it for the first time with the whole word on Super Bowl Sunday.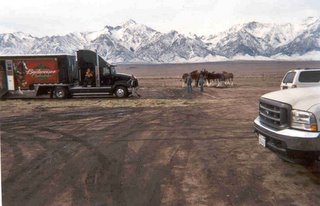 So... Sometime during the Super Bowl it will premiere... We have no idea when. I guess that it is possible that you may catch it before the game if they do spots on TV previewing the Super Bowl commercials. The commercial is a Budweiser spot with the Clydesdales playing football... This is the 3rd or 4th of this series of commercials that have been running since 1994. In fact they have been running the one from 4 years ago with the Clydesdales and the "Ref" Zebra this past week... we hope it is to "prep" for the new commercial. In this one there are horses, bears, and a dancing sheep involved.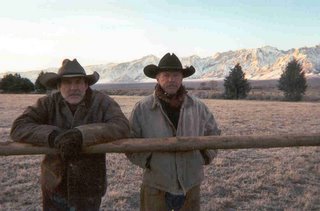 Here are two pictures that Mr. D took on the set..One of the horses (they are filming them line up to play football... a real loooong shot because the actors were kept away from the animals for safety reasons)
And one of Mr. D and the other guy.. Mr. D. is on the left looking very gruff... (his beard is usually not nearly that grey!)
So that is about it.. all we know. We are still waiting and praying for the checks to start a-rollin in...
Mr. D. is also featured this month in a Chevy Tahoe commercial... no lines but a quick shot (again as a cowboy) and the other guy says "wow." Maybe soon we will see some cash and start being able to begin building our savings back up and paying our credit cards back down after the "Holiday Season of Animal Trauma."
And now back to the regularly scheduled Infertility...
Oh... PS... Remember back in May when I won the Theatre Teacher of The Year Hero Award? Well... they have put up these strange billboards and trucks all around the DFW area... "honoring" the teachers in the different subjects that won this award. There is something very strange about driving through downtown Ft. Worth after a night of boozing it up with friends and seeing your face on the side of a panel truck.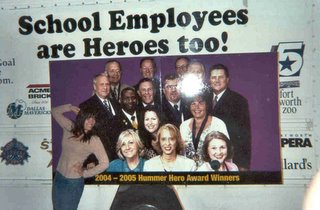 I am not sure of how much I like the "honor" of having a bad picture of myself with a bunch of wacky teachers displayed larger than life on the side of the road... but here I am in all my glory... posing at 2am beside one of my trucks. I recently cut bangs... what do you think of the side by side comparison??? (Please be kind... these billboards and trucks will be on the loose for several more months...)