Not much to report...UPDATE
UPDATE - uhm.. my progesterone level came back at 56.2. That was before suppliments... and that is REALLY HIGH... They wanted to see over 20 to sustain a possible pregnancy. The nurse thought this was REALLY REALLY GOOD. Dr. Google assured me that a high progesterone level is NOT an indication of pregnancy... but it does indicate a healthy level IN CASE OF pregnancy. Sooo... anyone ever had a level that high? Ignore the rest of this post... Hope just waltzed into the room.
Today is my last day of school for 5 days (Thank God!). Things are getting a little stressful at work and I really could use a few days break.
I de-"fall"-ized my house on Sunday... but we have no started putting up all the Christmas stuff yet. We may decided to do it tonight and all day tomorrow... it will depend on how Mr. D feels... he wasn't feeling well yesterday. I would like to get all the Christmas stuff up by Thursday... but I don't want us to kill ourselves to do it. There is no "reason" to have it done by Thanksgiving... no one is coming over... it is just my own little OCD thing.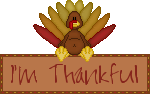 On Thanksgiving day we are having our very first combined family dinner at the
Gaylord Hotel
... From my family will be my dad and his wife and my brother and from Mr. D.'s will be his parents, and his sister, brother in law and their two kids. I am really looking forward to it and hope that everything goes well. Afterwards we are going to see the
ICE
presentation at the hotel. I think it will be fun... and the best part... no dishes or leftovers. I will try to post my "famous "turkey pot pie" recipe for those of you who have leftovers (especially you Jenn)... but this year I will have to make mine with chicken.
As far as TTC goes. I could take a pregnancy test on Friday... but I think I might wait a little. I am suddenly not feeling very hopeful. The hcg is probably out of my body by now... and my body feels mostly back to normal. Besides the bloated belly I don't really feel anything. Nic assured me last night that it is waaaaay to early to feel anything (8-10 dpo) but I just feel... uhm... not hopeful. I am scared to test.. I am scared to have to start a new cycle and pay for everything... (my insurance has officially quit on me.) So anyway... I will get through Thanksgiving and then think about when I will test and what I will do next.
Ok... off to work!